Frequently Asked Questions
How do I know what program to register for?
Keep in mind our CanSkate is suitable for all skating levels and ages. The Pre-CanSkate session is just shorter in length but offers the same programming as the regular CanSkate sessions. Pre-CanSkate is for those participants who can only handle 30 minutes. They are typically three (3) years old. Most participants are best placed in CanSkate. With each session, skaters are given a quick assessment and placed in groups based on their current skating level. These groups are fluid and depending on the rate of progression, your participant may change groups.
What is the Skate Canada Fee?
The Skate Canada Fee is an annual fee charged to each member. Renewal happens for September 1 every year.
This is the breakdown: Registrant fee - $32.00/registrant; Participant Accident Insurance Fee - $0.65/registrant+tax; and Safe Sport Fee - $3.00/registrant for a total of $35.75/participant
By joining Skate Canada, skaters join a nationwide community of 125,000 skaters, 5500 coaches, and 1100 Clubs participating in the sport of skating. Any Skate Canada member is covered for participant Accident insurance while participating in skating programs. Skate Canada is proud to lead the way in providing skaters with a safe place to train with their Safe Sport program.
How do I apply for PRO Kids?
Do you offer Private Lessons?
No, the Thunder Bay Skating Academy does not offer private lessons.
CanSkate is Skate Canada's flagship learn-to-skate program. Experts in the field have prepared a program to teach skaters the fundamentals of skating. It's tested and proven curriculum and delivery methods, guarantee skater success in developing stronger basic skills and developing them faster.
What does the Skate Canada Achievement Chart look like?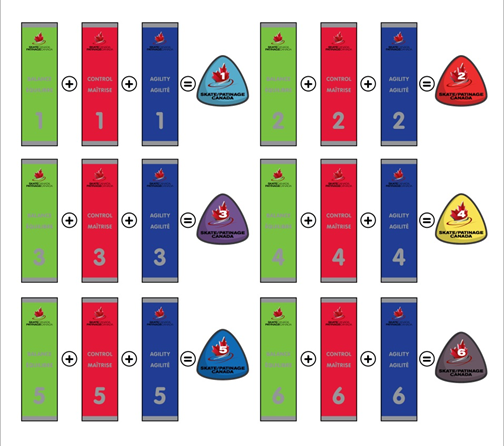 What skills are assessed at each level?