Program Assistants with the Thunder Bay Skating Academy
If interested in volunteering with our program please fill out the following survey or contact our Skating Programs Coordinator at tbsa.sp@gmail.com for more information!
What is a Program Assistant?
Program assistants (PAs) are individuals who have been trained by a CanSkate coach to assist in the delivery of the CanSkate program.
Program assistants may be drawn from a number of different groups of people including:
• Current skaters at the club
• Former skaters
• Skaters from other sports (hockey, ringette, speed skating)
Program assistants should be:
• Good communicators and demonstrators
• Enthusiastic
• Team players and good role models
• Responsible
• Punctual
• Patient
• Prepared and organized
• Able to lead groups, encourage skaters and offer praise
• Able to keep skaters moving while having fun
A PA's role may include:
• Assisting or leading warm-ups, group activities or cool-downs
• Assisting with the set up of circuits and stations
• Leading circuits and rotations
• Demonstrating proper execution of skating skills
• Providing assistance to skaters who may have additional needs• Taking attendance
• Timing speed skills
• Providing general assistance to the coaches on the session
• Providing encouragement and general feedback to skaters
• Assisting with tracking of skill acquisition
A PA's role does not include:
• Delivering lessons at a designated teachingstation
• Instructing skills
• Assessing skills
Our Program
Warm-up
Full perimeter skating, both directions forwards and backwards with dynamic stretching to keep skaters moving.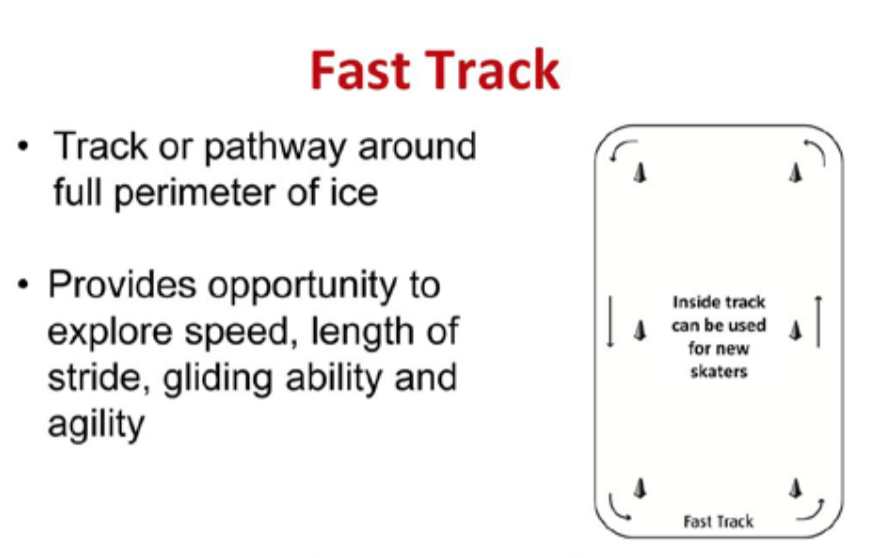 Lesson time
3 to 6 groups on the ice (Purple, Red, Blue, Green, Black and Yellow. Purple Group is Pre-CanSkate and will need help getting to their lesson area during warm-up. The remaining groups will start where their group flag is. There are 3 stations on the ice, Balance, Agility and Control and g roups will rotate roughly every 10 mins (clockwise).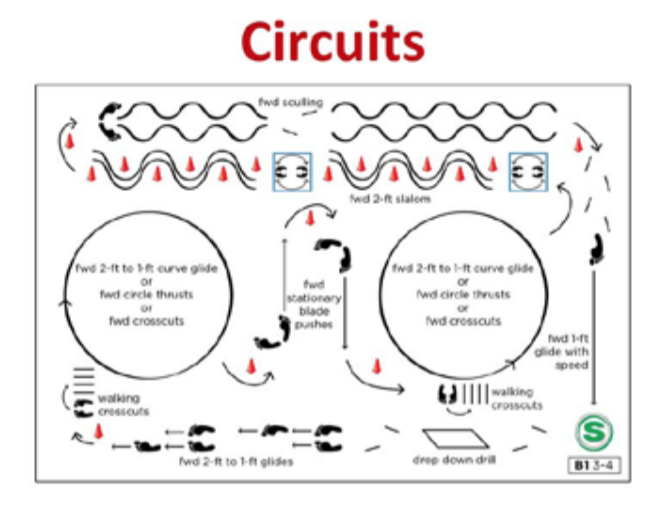 Group activity
For example: YMCA Led by Program Assistants in the centre of the ice
Cool-down
For Example: Believe = full perimeter, long strokes, long glides on one foot, moving stretches like drags, toe touches, side stretches, big arm circles with deep breaths, etc.